Let Your Light Shine
Personal development workshop for women.
A session with the horse leads you deeper into yourself, providing opportunity for insights and personal development.
Join us for this one day workshop and walk your own path… flourish… find your passion and a place to belong.
In a small group setting, you will be empowered as you engage in activities such as mindfulness and breathing exercises, learning to connect energetically with the horse, setting boundaries, finding your leadership voice, handling relationships, managing stress, and equine-assisted activities for fun, stress relief and learning.
In this small group, you will share a one-to-one connection with a horse as well as engage in group activities. All activities are done on the ground or walking alongside the horse. There is no riding. This one day workshop will take place in the comfortable environment of a heated indoor arena with plenty of room to respect everyone's need for personal space.
Program Description
| | | |
| --- | --- | --- |
| Groups | | Women |
| Cost | | $260 +gst |
| Duration | | 4 hours |
| Date | | Contact us to discuss upcoming dates |
| Location | | Near Langdon |
| Questions | | Connect with us |
Horses are sensitive to a person's energy and to their surroundings which can bring forth surprising insights and offers a unique element to each session. This is a remarkable way to enjoy your personal development process.
If you haven't been around horses before, not to worry as there is no riding. Connecting is done on the ground. In addition, the first session includes basic safety and instruction on how to handle a horse for the purposes of this program. Every session is carefully constructed to ensure the horses are appropriate and managed properly for the safety of all participants.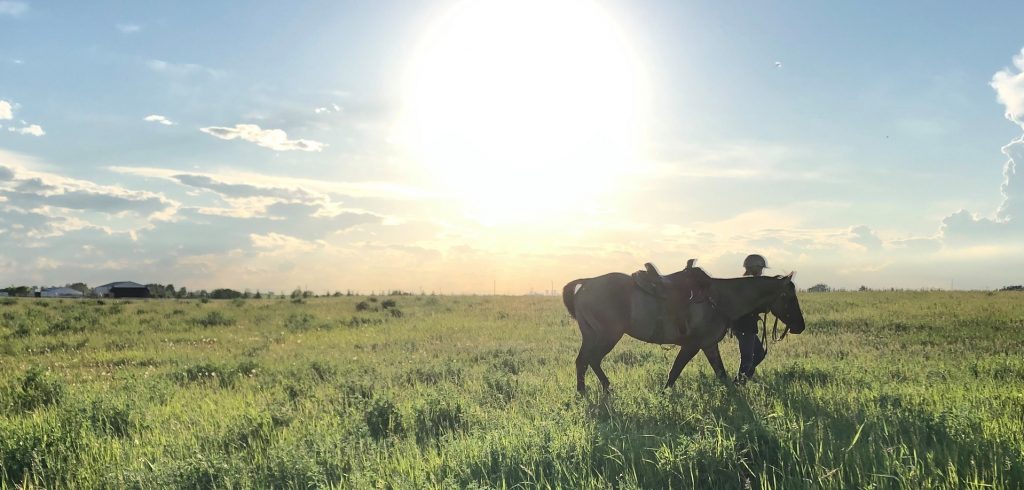 If you'd like to find out more or register for this program, connect with us.