As a young pleasure bred quarterhorse, Levi was looking for his forever home. The people who owned him knew he was special and contacted me when they found out I was looking for a young horse to bring up.
Levi was started by an accomplished young equestrian woman near High River. He learned the basics of being handled on the ground, approaching obstacles such as a wooden ground bridge, rails and barrels. She started him under saddle and developed his paces at a walk, trot and canter. All that was needed was the consistent time and focus of his own person.
In November of 2020, this handsome dark brown horse joined the herd at Legacy Ranch as a four-year-old. During the purchasing process, we paid a great deal of attention to Levi's conformation, nature and health. It was soon after coming to live with us that we realized his pretty brown colouring was anything but usual! Levi is blessed with the unusual Rabicano gene which is characterized by white ticking (hair) interspersed through the brown in certain areas of his body with a roaning effect to his chest, ribs and flank, as well as at the base of his tail! It's quite striking!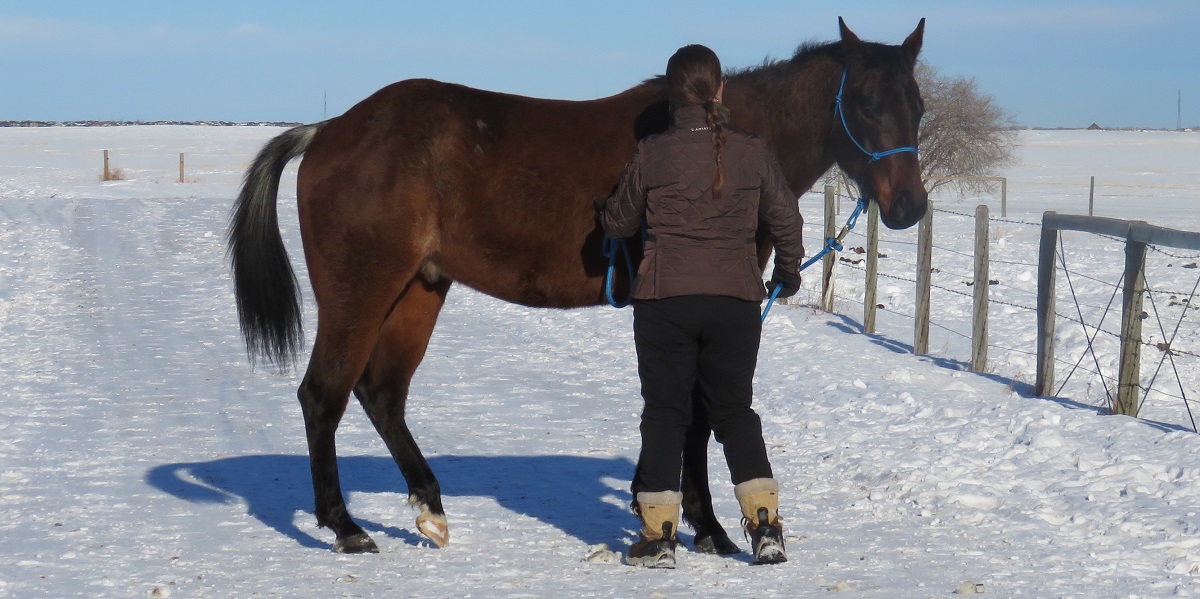 As Levi's training continues, he will be engaging more and more in programs here at Legacy Ranch. Levi enjoys frolicking in the pen with his buddies Drifter, Teddy & Jake. He's interested in people and likes attention. He's gentle and alert, perfect for a horse engaged in equine assisted programs.