Rural Experience – Waiver in Effect
All activities including horse drawn carriage/wagon/sleigh rides and their related activities present many inherent risks and dangers. All participants are deemed to have assumed all these risks and dangers by agreeing to a waiver signed by the organizer/contact person. All participants shall be so advised.
A copy of this waiver is below and is to be made available to anyone participating.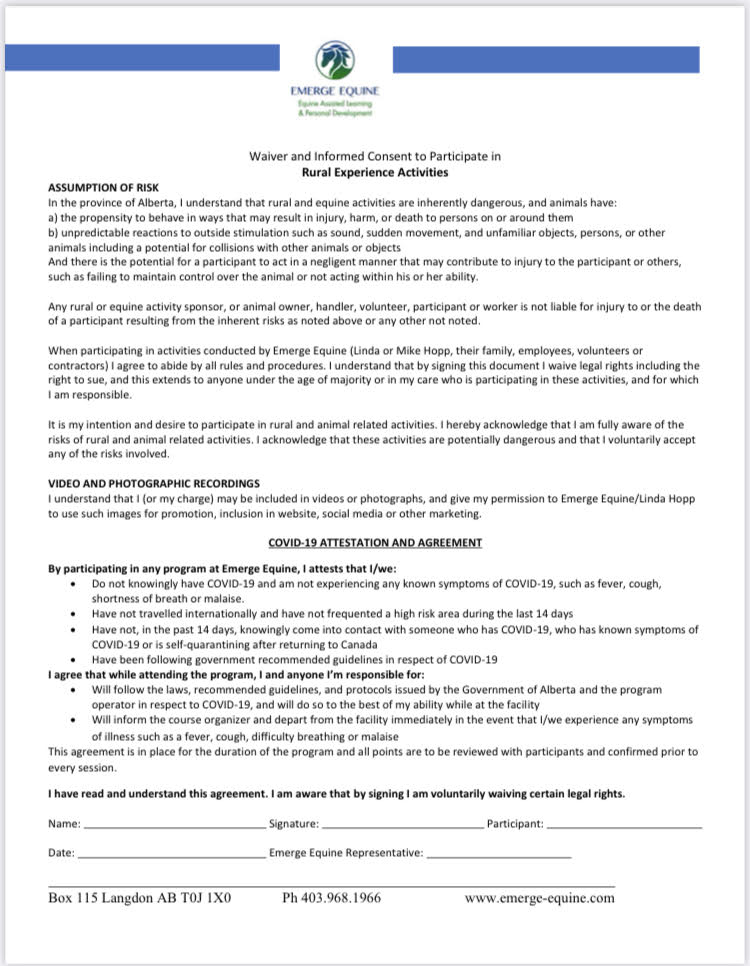 Waiver and Informed Consent to Participate in Rural Experience Activities
ASSUMPTION OF RISK
In the province of Alberta, I understand that rural and equine activities are inherently dangerous, and animals have:
a) the propensity to behave in ways that may result in injury, harm, or death to persons on or around them
b) unpredictable reactions to outside stimulation such as sound, sudden movement, and unfamiliar objects, persons, or other animals including a potential for collisions with other animals or objects
And there is the potential for a participant to act in a negligent manner that may contribute to injury to the participant or others, such as failing to maintain control over the animal or not acting within his or her ability.
When participating in activities conducted by Legacy Ranch / Emerge Equine (Linda or Mike Hopp, their family, employees, volunteers or contractors) I agree to abide by all rules and procedures. I understand that by signing this document I waive legal rights including the right to sue, and this extends to anyone who is participating in these activities for which I am responsible.
It is my intention and desire to participate in rural and animal related activities. I hereby acknowledge that I am fully aware of the risks of rural and animal related activities. I acknowledge that these activities are potentially dangerous and that I voluntarily accept any of the risks involved. This may include horse drawn carriage, sleigh or wagon rides or other activities.
VIDEO AND PHOTOGRAPHIC RECORDINGS
I understand that I (or my charges) may be included in videos or photographs, and give my permission for Linda Hopp to use such images for promotion, inclusion in website, social media or other marketing.
COVID-19 ATTESTATION AND AGREEMENT
By participating in any program at Emerge Equine, I attests that I/we:
Do not knowingly have COVID-19 and am not experiencing any known symptoms of COVID-19, such as fever, cough, shortness of breath or malaise.
Have not travelled internationally and have not frequented a high risk area during the last 14 days
Have not, in the past 14 days, knowingly come into contact with someone who has COVID-19, who has known symptoms of COVID-19 or is self-quarantining after returning to Canada
Have been following government recommended guidelines in respect of COVID-19
I agree that while attending the program, I and anyone I'm responsible for:
Will follow the laws, recommended guidelines, and protocols issued by the Government of Alberta and the program operator in respect to COVID-19, and will do so to the best of my ability while at the facility
Will inform the course organizer and depart from the facility immediately in the event that I/we experience any symptoms of illness such as a fever, cough, difficulty breathing or malaise
This agreement is in place for the duration of the program and all points are to be reviewed with participants and confirmed prior to every session.
I have read and understand this agreement. I am aware that by signing I am voluntarily waiving certain legal rights.
Name:
Participant (if different):
Signature:             
Date: