Recreation Therapist, EALPD Coach, Equine & Canine First Aid Instructor, Mom
Tanya was raised in a small rural community in southern Alberta. When she was young girl, she enjoyed visiting her grandparents farm, camping with her family and spending time in nature. She had many pets while growing up! Throughout her schooling Tanya belonged to the local 4-H club as well as many other community groups. Tanya has always been an active member in her community, playing sports and serving on several committees over the years. After high school, Tanya attended Lethbridge Community College and received a Diploma in Therapeutic Recreation, as well as Unit Clerk Certification.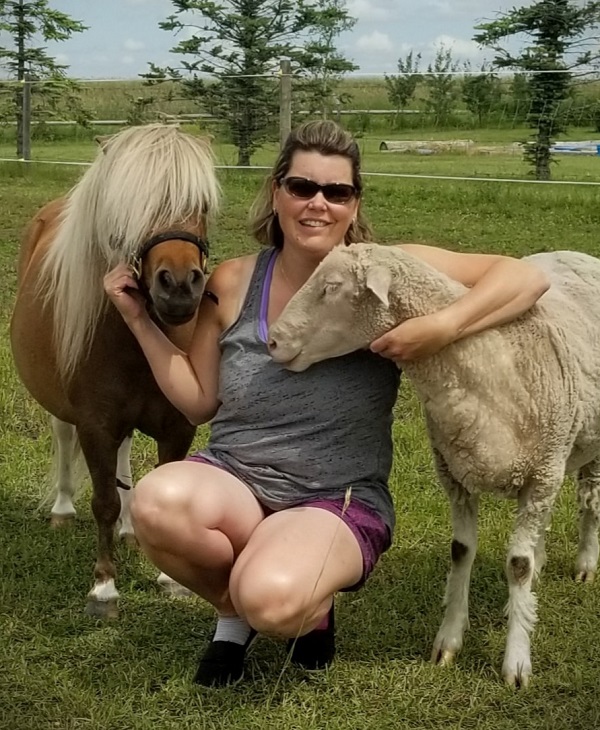 Throughout her 25+ year career, Tanya has gained experience working in Mental Health, Mentoring Children, Programming for families in community Recreation Facilities and Engaging with Elderly Patients with Dementia- in Hospitals & Long Term Care settings. Tanya has been raising her son at home for the past 8 years and has a huge passion for animals and the role that they play in our lives.
Tanya has worked with clients with decreased self esteem, behavioral issues, trauma from abuse and has also supported families with their journeys regarding their loved ones goals and challenges.
Tanya continues to build on her professional development and her skill set, in 2018 she became an Equine Assisted Learning Coach (EALPD), in 2020/21 an instructor with Equi Health and Canine Health Canada, allowing her to teach Basic & Advanced/ Remote Equine Health and First Aide as well as Canine First Aide. Tanya is also a Scouter with Scouts Canada and a member of Guardians of the Children (Strathmore, AB).
Tanya's portfolio is extensive and consists of training in:
Learning Disabilities and Safe & Caring Schools
Understanding Childhood Stress & Anxiety and Behavior
Leadership, Empowering Women and Coaching
Communication and American Sign Language
Behaviour Patterns & Modification
Mood Regulation, Gratitude & Empathy
Equine Communication Patterns
Reiki and Reiki Drumming
Crafts, Soap Making, Sewing & Gardening
Additionally, she's educated in the following
Basic Massage, Reflexology, Aromatherapy
Supportive Pathways
Accountability, Family Dynamics, Supportive Pathways
Accountability Training & Coping with Stress
Behaviour Patterns, Coping Strategies and Positive Discipline
Understanding & Responding to Challenging Behavior of Children & Youth
Family & Domestic Violence and Non-Violent Crisis Intervention
Suicide Intervention, Death & Dying Support
Working with Challenging Families, "Who's In Control?"
Finally People Are Talking; Communities Against Sexual Abuse
Alzheimer's Disease and ADHD & Executive Functioning
Down to Earth
Tanya enjoys her dogs and other hobby farm critters, gardening both vegetables and flowers, soap making, canning and preserves. Tanya is the founder of The Rural Experience near Strathmore. In her spare time she is always working on projects and attending activities with her son. Tanya has a passion for gratitude and realizing that there is "Always something to be grateful for!".