Lots of children participated in our riding camps during the summer of 2019. All the horses that were normally engaged with the kids were busy when a mom asked if her son, Ethan, could participate. She said he would be happy just leading a horse and getting used to having such a big animal around. They had recently acquired a quarter horse and she wanted to make sure he'd be comfortable with their new horse.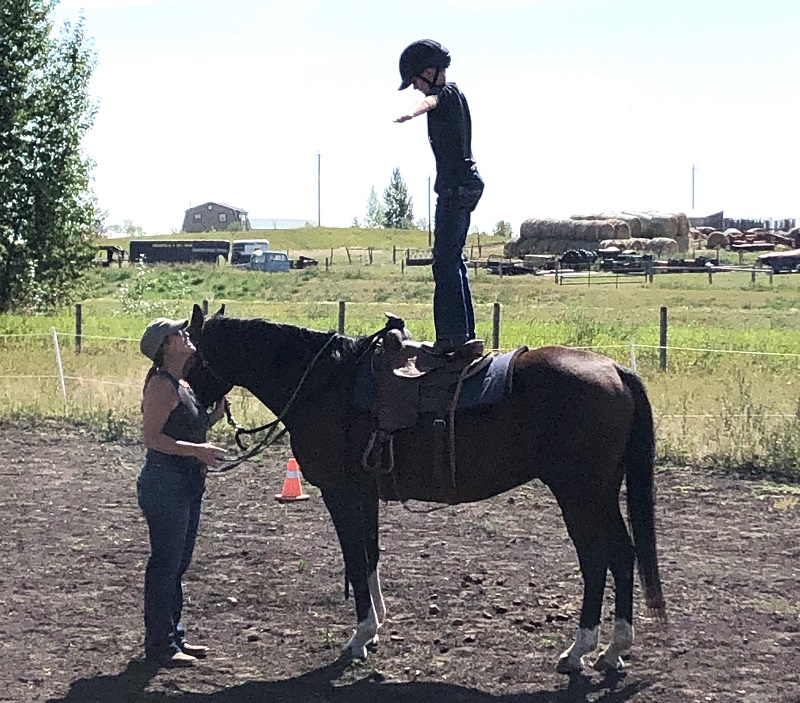 All the available remaining horses pranced through my mind, and the only one I thought might work was Dollar. Though not your typical "kids" horse, Dollar is undoubtedly special.
When Dollar joined our family, he had trust issues, to say the least. He had been mishandled as a young horse, developing fearful ideas about what might happen. His behaviours were unpredictable and even dangerous at times, especially when the handler was on the ground. Sadly, I admit there were times I almost gave up on him.
The thing about Dollar, though, is that he has a huge heart. He tries so hard. He is sensitive and loves to go. As I am a competitor at heart, he won me over in time, as I won him over.
It didn't seem to matter what kind of game or event I entered into with Dollar, he'd try his hardest. We did mountain riding, arena work, cattle drives and penning, clinics and gymkhanas. We had a wonderful time racing at breakneck speeds across the stubble fields in the fall and discovered the cowboy challenge would be our favourite event together. This is an obstacle event that requires a high level of trust between horse and rider.
In the last few years, Dollar has quieted down and become easier to handle. He is the first to the gate and tries to hog the attention, especially when someone is petting or brushing the horses in the pen.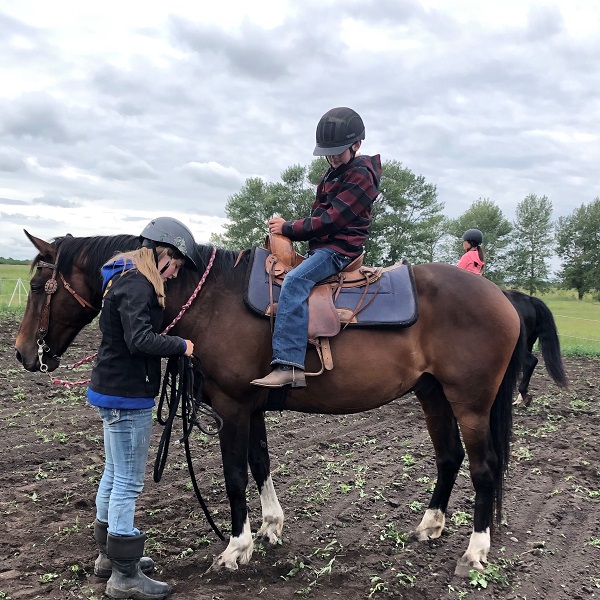 So back to the riding camp… Dollar was the guy. As it turned out, Ethan fell in love with Dollar quickly and decided he wanted to ride. With no previous riding experience, I was careful to instruct him about how his energy and body language would affect Dollar. Relaxed energy would relax Dollar. Excited energy would excite him. Squeezing the legs would tell Dollar to go faster.
Ethan is a good listener and used his energy and body well. Eventually, we eased the lead rope out as he learned to steer, and finally, let him go all on his own in the arena! They were spectacular together! Dollar seemed to know Ethan was a novice and was careful in his movements and speed.
By the end of the week-long camp, Ethan actually stepped up onto the saddle and stood tall on Dollar's back, fully trusting our beautiful old gelding.
On a beautiful fall day in October of 2020, Dollar passed away. He is missed by his herd as well as his people. We fondly remember him and are grateful he was part of our family for so many years.
If you would like to learn about some of the other special horses we have here at Legacy Ranch, check out our page: Meet the Horses